Gift Game Strong
This month, our feature products are focused on all of our Christmas Packs and stocking stuffers that we have for you this holiday season. We have something for every hair type and they will all be on the shelves as of Monday, November 19th! Gift giving just got way easier…
If you're big on volume, we have the evo Extra Volume and the Redken High Rise gift packs to make your hair a big hit. With the evo pack, you buy the Gluttony shampoo and the Bride of Gluttony conditioner and get a full-size Shape Vixen volumizing lotion as a gift. All of the products in this pack are good for all hair types, especially fine hair. The Redken packs come with a shampoo and conditioner, and you get 25% off the regular price of the shampoo. The High Rise shampoo and conditioner are also good for fine and flat hair, and they will leave you with a very polished and silky finish. We will only have the High Rise line in the studio for a limited amount of time so this is your chance to try it!
Who wants hair smooth like butter? The evo Extra Smooth and Redken All Soft Mega packs are both going to tame all of your strays. If you buy the evo Mane Tamer shampoo and conditioner, you receive a complimentary Lockdown smoothing treatment with the evo gift pack. Not only are they all smoothing products, but they are also strengthening products to help with your hair's manageability. The All Soft Mega shampoo and conditioner are new to the studio as well and will only be available while quantities last. With ingredients such as aloe vera gel and cactus extract being paired with Redken's RCT Protein Complex, your hair will not only get frizz-free but also treated and given intense nourishment. This pack is great for people with coarse and/or dry hair.
Calling all blondes (and other people with damaged hair). The evo Extra Repair and Redken Extreme packs are hear to heal your hair! Purchase the evo Ritual Salvation shampoo and conditioner and take home a Mane Attention protein treatment free of charge. These products are rich and nourishing and leave your hair stronger and shinier. They're great for colour-treated hair and/or hair that needs protein reconstruction. The award-winning Redken Extreme shampoo and conditioner also have the RCT Protein Complex for protection of the root, core and tip of your hair strands. This three-level nourishment system ensure your hair gets cleansed, strengthened, and restored with every wash.
Canadian winters can be harsh, so we can probably all agree that suffering from dry hair is a very real problem! The evo Extra Hydration pack includes The Therapist shampoo and conditioner and includes The Great Hydrator moisture mask which is perhaps the greatest gift of all! These all give intense hydration (not just moisture) to soothe dry hair and encourage healthy hair. Your hair will also be left softer and stronger. The Redken All Soft shampoo and conditioner was created specifically for dry, brittle hair, so it's sure to be a hit this winter. It's not as rich as the All Soft Mega line so it can be used daily and it has turned out to be a staple in our studio because of it. Powered by argan oil, this line leaves your hair more manageable and soft.
Who doesn't need more dry shampoo? Purchase one of Redken's Pillow Proof Two Day Extender dry shampoos and take home a clear glass Redken water bottle as a gift. This dry shampoo has Touch-Activated Fragrance capsules in it so when you touch your hair throughout the day after using it in the morning, little scent bubbles burst and leave you smelling fresh all day! It has a matte finish and sprays out clear so it's essentially invisible.
We carry two of Redken's Color Extend shampoos and conditioners; the Magnetics and the Blondage. The Magnetics is a very basic, every day shampoo and conditioner for colour-treated hair, and it also has the RCT Protein Complex. What sets it apart is that it is sulfate-free. The Blondage is made specifically for blondes who get brassy faster or who just want to stay as white-blonde as possible. The shampoo and conditioner both have ultraviolet pigment in them so they come out purple and they actually tone your hair. It also has a Triple Acid Protein Complex in it to leave your hair stronger and blonder!
This must be the best deal we have this season. Buy an evo Fabuloso conditioner in Platinum, Mahogany, or Chestnut and receive a free evo Whip It Good styling mousse. If you don't know about the evo Fabuloso line, these are conditioners that have actual colour pigment in them so that when you wash your colour-treated hair, you re-tone it with the conditioner all from the comfort of your own shower. These conditioners can be key to making your colour last. The Whip It Good mousse is a rich moisturizing foam with high shine and low hold. Good for enhancing curls or waves, it also smooths by preventing frizz.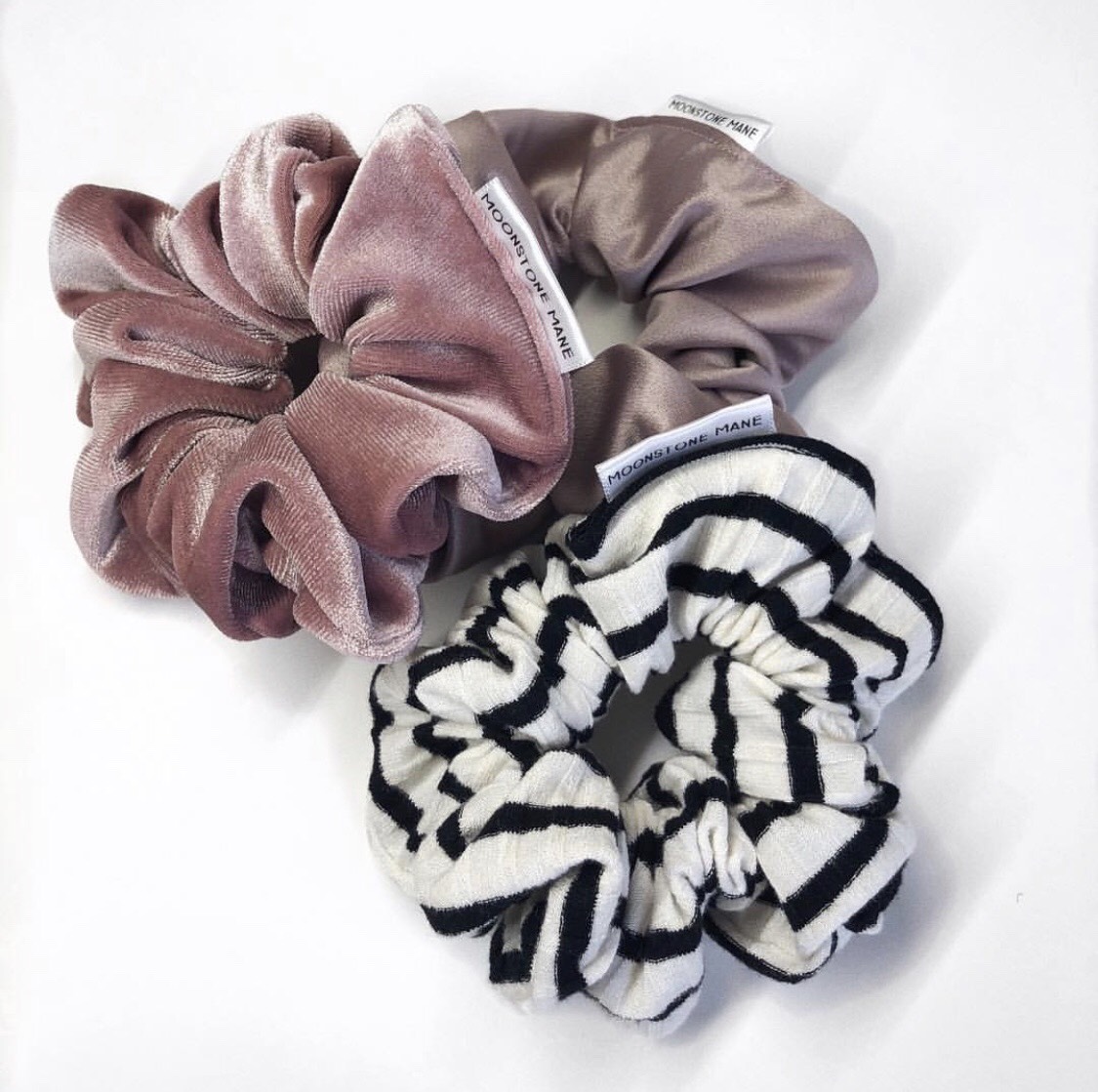 This is something new for the holiday season! We are very excited to announce that we have partnered up with Moonstone Mane and will have their scrunchies in the studio in under two weeks! Moonstone Mane is an Edmonton-based company that started up in August 2018. We are so excited to have their scrunchies in our studio soon- these will come in all sorts of colours, patterns, and fabrics to pretty up your top knot! There will always be different designs coming out as they locally source all of their materials they use. Support local this year with this perfect stocking stuffer!
The Olivia Garden Nano Thermic roundbrushes that we carry are a must if you want to perfect your blowout. We have several different sizes and they are all gold so how could you not want one?! We also carry evo Fabuloso wide-tooth combs so that you can brush out your waves perfectly day-of and day-after. The iconic Wet Brush detangling brush is also a staple in our studio (and hopefully in your bathroom or wherever you do your hair) for keeping your hair smooth and healthy.
Aria Beauty has come out with the cutest styling sets that make sure you have everything you need, and the packaging is so pretty you don't even have to wrap them! Their mini blow dryer set comes with a 1200W travel-size blow dryer that has a matte, unicorn colour scheme, and a mini diffuser and concentrator. The Peacock Straightener Set also comes with everything you need for an entire style. Not only do you get a professional-grade colourful straightener, you also get a paddle brush, comb, two clips, and a decorative hair tie. We have both of these sets in different colours and we have curling irons in stock for the holidays as well.