August Air Stylers
Discovering the Bumble and bumble Don't Blow It and Redken No Blow Dry air stylers will be the best thing you've done for your hair all summer, regardless of your hair type!
Picture this; It's a million degrees outside so you take a cold shower. You get out and then realize that it was all for nothing because now you have to blow dry your hair and become a sweaty mess again. What's a girl to do?
Don't worry, Bumble and bumble's Don't Blow It and Redken's No Blow Dry are the answers to your prayers. Not only will they keep the blow dryer away, but they will also enhance the health of your hair along with other benefits. How? Keep reading to find out!
Bumble and bumble
Don't Blow It (H)air Styler
The sun is no match for this product for more than one reason! First, it has UV filters in it to help protect your hair from the sun while you're outside. Second, it acts as a moisturizer for your hair so it doesn't dry out in the sun. No hot tools are needed with this as the cream enhances your natural texture and tames frizz too. The light blue bottle is for fine to medium hair, the dark blue bottle is for thick and/or coarse hair, and both are safe for colour-treated hair. We carry both of these at Elixir and we have them in travel size as well.
Squeeze a small amount out of the tube into your hand, and work into damp, towel-dried hair from mids to ends. If you want, you can twirl strands of your hair with it for a naturally wavy finish. Let air dry and enjoy all day long.
Redken
No Blow Dry Cream
If you're looking for an effortless style, or you're simply tight on time in the morning, the NBD cream is the product for you. Not only does it feel like you didn't put anything in your hair, it gives you volume, texture, and control as well. These products contain polymers for drying your hair fast and for controlling your hair fibers. The Airy Cream was created for fine hair, where the Just Right Cream is meant for medium hair. We have both of these at the studio, and Redken has one for coarse hair called Bossy Cream available as well.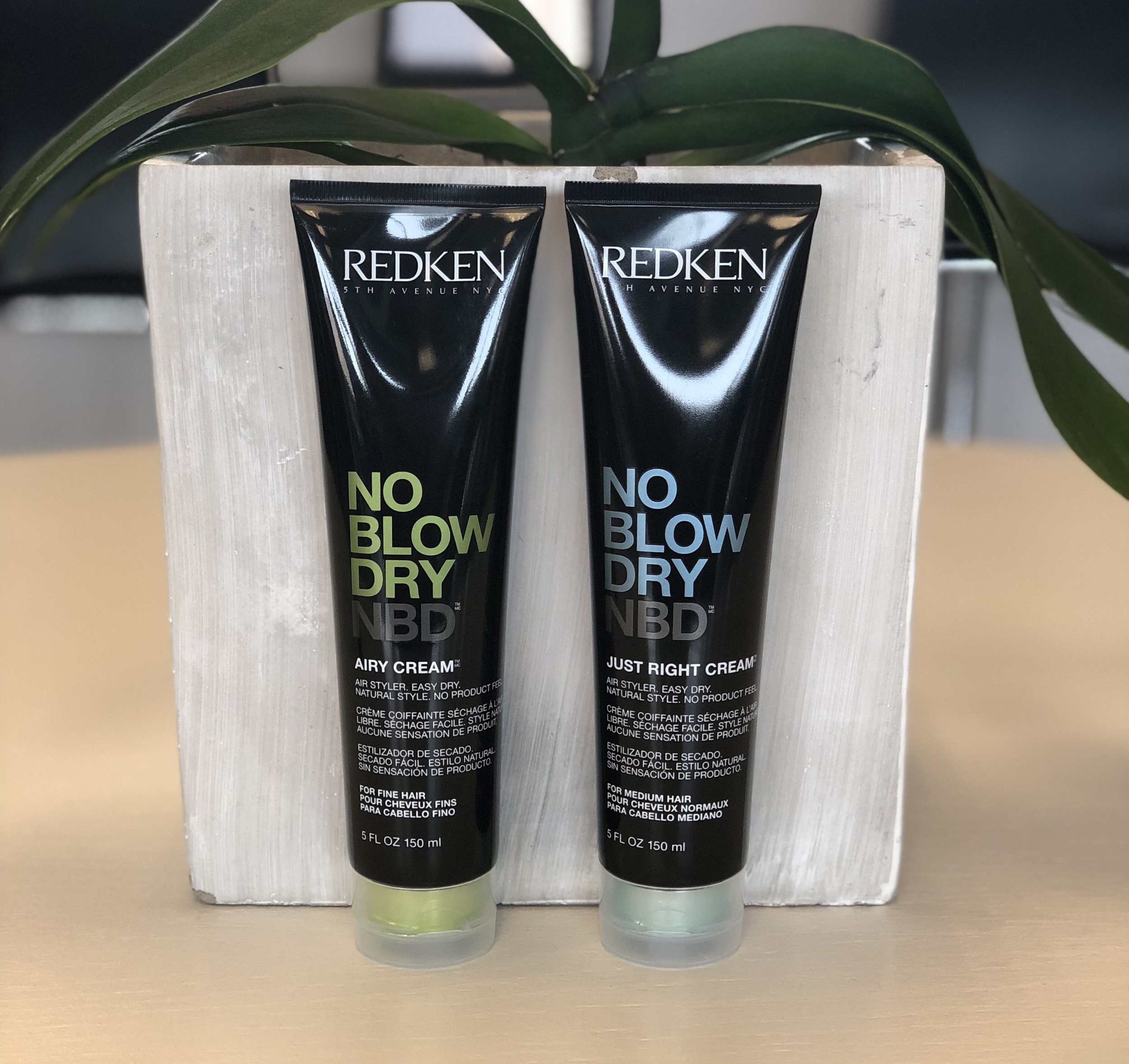 Squeeze a small amount into your hand and then scrunch or twist into towel-dried hair. Let air dry and enjoy your natural, airy look. The volume, texture, and movement should last for about two days.
So How Do You Choose Which One?
The main difference between the two product lines is the price point. What we recommend is that next time you come in for your appointment, ask your stylist to use it on you! This is the best opportunity for you to learn how to use it properly and get to try it without having to buy it. You can even try one on each side of your hair if you're feeling really experimental!
These products are great if you're looking to save time getting ready, protect your hair from potential sun damage, keep your ends moisturized, tame your frizz, replace your hot tools, and/or feel like you don't have any product in your hair. These can also be a style-saver if you're at the beach and getting your hair wet, or if you're traveling and don't have hot tools to use!